The best protection of mankind against lightning strikes is known as lightning rod with pointed rods called Franklin rod. However, an experiment on the top of a mountain in Switzerland, where the telecommunication tower is located, could change all the balances. Because in this experiment with lasers, short and intense laser pulses were thrown into the clouds. The result was interesting enough to surprise even weather enthusiasts.
Lightning, lightning bolts… The essentials of a severe thunderstorm. But lightning bolts are also scary. Many people die due to lightning strikes. Lightning protection methods are used to avoid any damage. The oldest and most well-known of these methods is the lightning rod with pointed rods called Franklin rods. But a surprising experiment on a mountaintop in Switzerland may have uncovered a better protection against lightning.
GROUNDBREAKING LASERS ON THE TOP OF THE MOUNTAIN!
"Although this area of ​​research has been very active for over 20 years, this is the first field result to experimentally demonstrate that lasers can direct lightning," the scientists wrote in their published paper.
The experiment was carried out in the summer of 2021 at the Säntis mountain in northeastern Switzerland, where a telecommunications tower is struck by lightning approximately 100 times a year. Short and intense laser pulses were thrown into the clouds during a series of thunderstorms. Thus, the direction of the four lightning bolts that were expected to strike the tower was successfully changed. During the stormy periods when the laser was disabled, 12 lightning bolts hit the tower.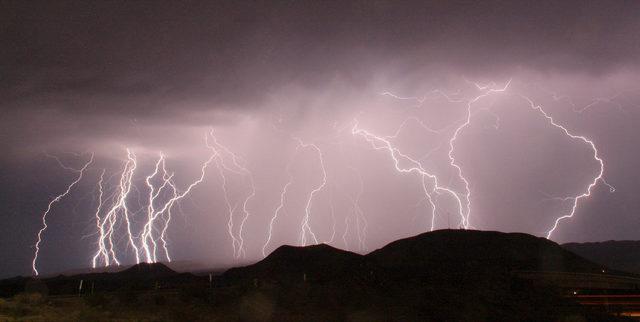 According to the report, physicist Aurélien Houard of the French National Center for Scientific Research's Laboratory of Applied Optics in Paris and colleagues wanted to test whether a laser could drive lightning away from critical infrastructures and find a better way to protect against lightning strikes.
With the increase in extreme weather events caused by climate change, lightning protection is becoming more and more important. According to the news in Science Alert, a team of scientists worked with lasers on the top of the mountain, where a large metal telecommunications tower is located as part of their research. The study, published in Nature Photonics, showed that beaming lasers into the sky can prevent lightning strikes.
SHORT AND INTENSE LASER PULSE AT THE CLOUDS